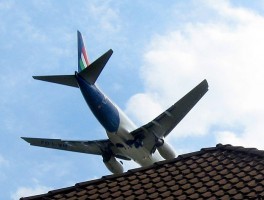 Budapest Airport expansion is a climate and health destroying project, and from public money - it is not a development but a bad project! Thematic info collected here, with FoE Hungary and CEE Bankwatch materials, news.
In 2019, the Civilsed Air Transport Association (KLKE) approached the Friends of the Earth Hungary (MTVSZ) for help. As a result of our cooperation, in the spring of 2020 we submitted a joint formal complaint to the European Investment Bank, which is financing the Budapest airport expansion with EU public loans, to review the project and to ask the investor and the Bank to consult with the affected population and take their interests into account. The procedure is still ongoing today. In addition, we also consider it important to draw the attention of the decision-makers in Hungary involved in this matter and of the half a million or so residents of Budapest and Pest County affected by the airport congestion to urge meaningful consultations and solutions that will restore the quality of life of the residents, because the situation is untenable.

This is why we launched our "Garden city suburbs are not a runway!" programme and this information page on 11 October 2021.

In August 2021, we visited the local residents of the suburbs of Pestszentlőrinc, Erzsébettelep, Rákoshegy, Szemeretelep and Ganz-telep and summarised the situation and possible solutions in a video report (with English subtitles):
https://www.youtube.com/watch?v=pnTMd6MmrdI

Our new study is downloadable from here.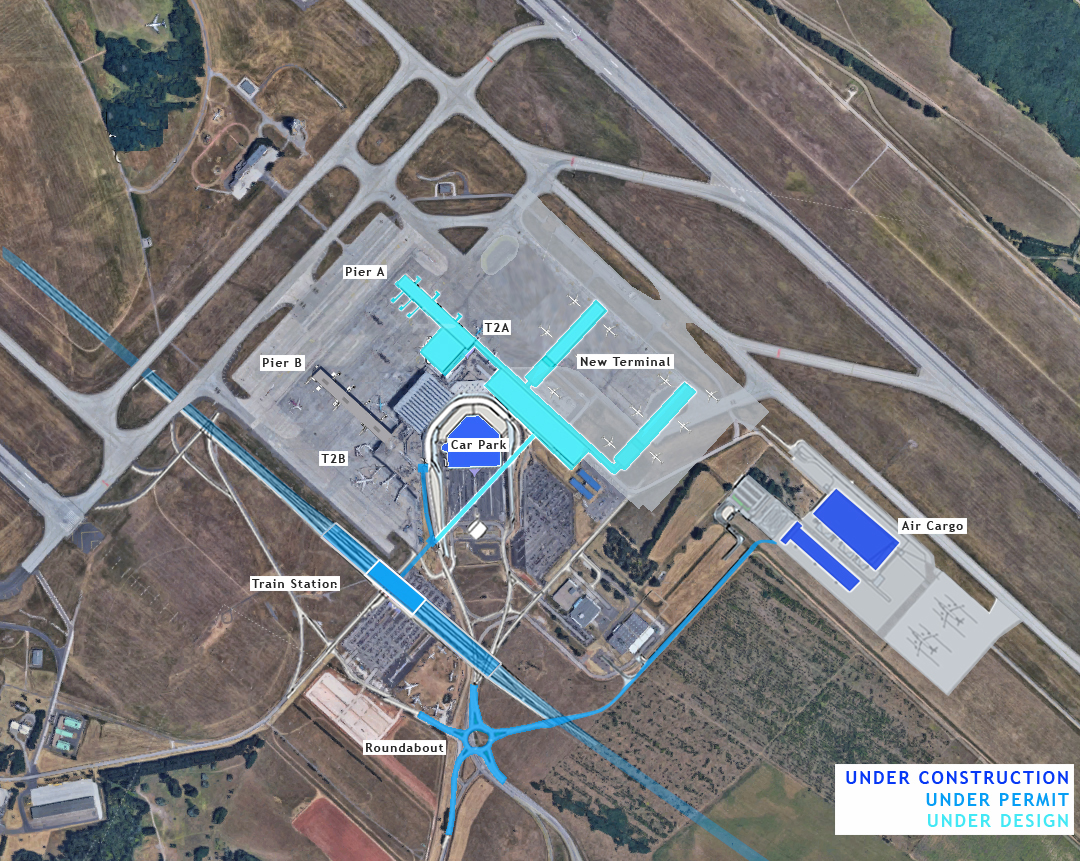 WHAT IS THE PROBLEM?
- Budapest airport's annual traffic was originally planned to be 6 million, now 15 million (it peaked in 2019), the project would result in 21 million Hungarian people travelling through in a year. In addition, with Cargo City planned for cargo traffic, the 150,000 tonnes of air cargo traffic per year will create additional air and noise pollution.

- Around 1 million people live in the airport's catchment area (where micro-dust concentrations from airport operations are 2-13 times normal), half a million of whom live in the worst affected zone (9 km radius), where the adverse health effects of airport-related air pollution are most likely to occur. Noise exposure also affects around half a million people, of whom around 70-80,000 are the most affected.

- The investor Budapest Airport and the Bank have not consulted the affected population in a meaningful way, have not taken their interests into account and have not provided adequate compensation/resolution so far.
AIR POLLUTION. Map below: Estimated micro-dust concentrations around Budapest Airport. Based on data measured at Schiphol Airport in the Netherlands and applied to Budapest Airport based on 2018 and 2019 traffic data. Source: Association for Civil Aviation (KLKE / CATA)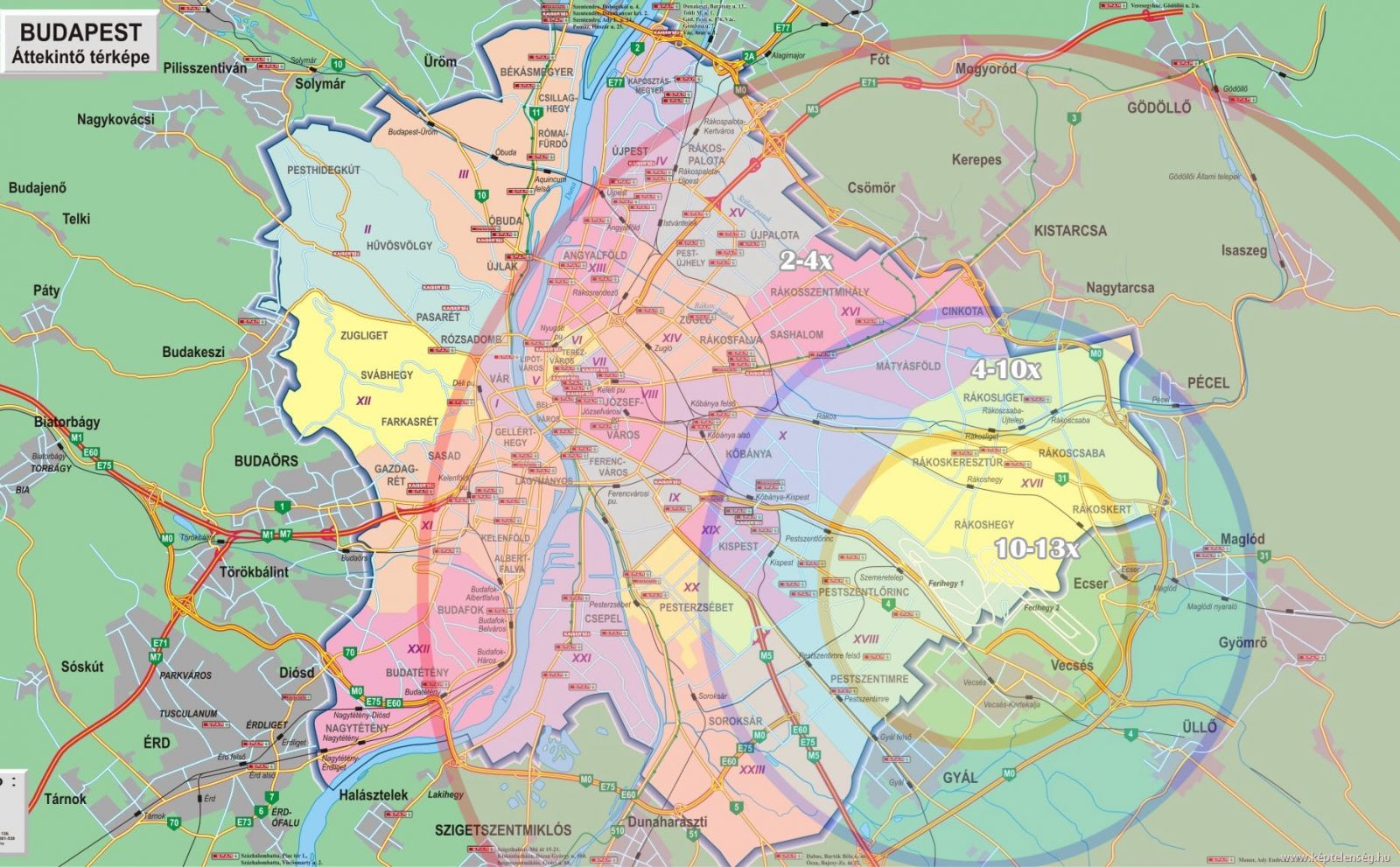 NOISE POLLUTION. Noise abatement zones (sand and light blue) and EU-recommended zones (red, yellow and blue) as defined by Hungarian legislation: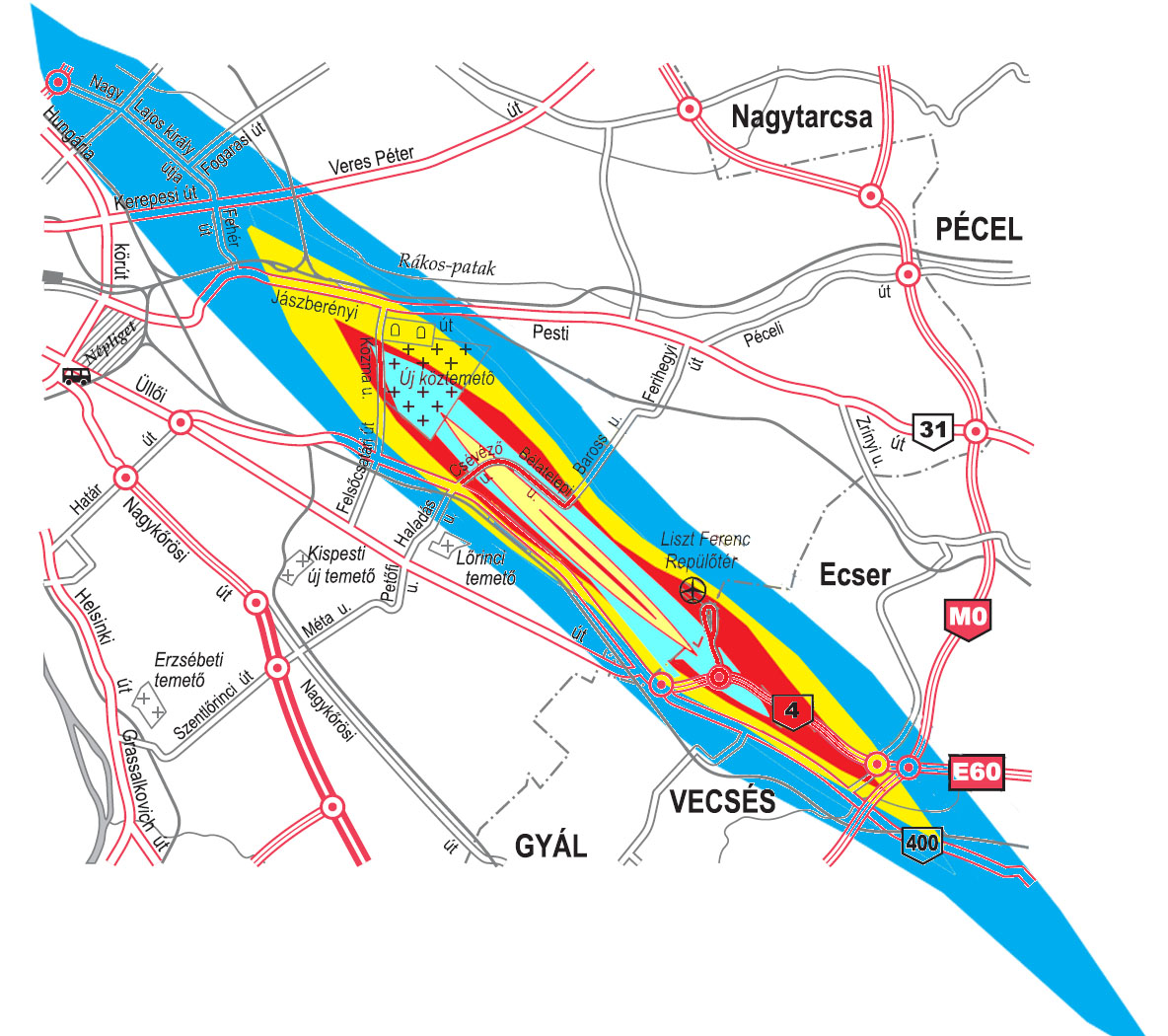 WHAT CAN YOU DO?
Educate and inform yourself, share our materials and videos!
In line with our LifeAffirming campaign, think about whether a particular journey or transport is really necessary for you.
If you need to travel far, choose a more environmentally and health-friendly means of transport (train, bus).
Avoid ordering products online that are typically over-packed, of poor quality and perish quickly, and transported from far away (by plane or even container ship or train). Most of these are not really needed.
When buying food, give preference to local, seasonal produce and source it from local farmers' markets, reducing the environmental impact of transporting food (for example, transporting 1 kg of Chinese garlic to Hungary produces 2.5 kg of carbon dioxide emissions).
The reason why airfares can be low and the transport of products from far away can only be cheap compared to environmentally and health-friendly alternatives is that the significant health and environmental burden of air transport and the damage costs are passed on to the people living around the airport and factories, who pay for it by reducing their quality of life and livelihood. This is very unfair and affects the masses. Let's stand up together, assert our basic rights to a healthy environment and livelihood, sign our LifeAffirming petition: https://mtvsz.hu/eletigenlo
If you are one of the half a million people affected by the environmental and social burden of the Budapest airport, help the cause by signing the local people's petition: https://terjed.ahang.hu/campaigns/budairport

You can also contact us: repter(at)mtvsz.hu
For Civilsed Air Transport Association: http://kulturaltlegikozlekedesert.hu/