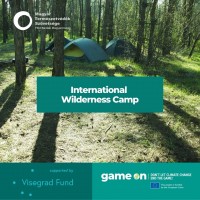 Do you know how to mitigate global climate change?
Do you want to know what you can do to help biodiversity conservation?
Would you like to spend a week on the riverbanks of the Bodrog with an international group?
Join the international wilderness camp in Hungary, Bodrogolaszi for five days from July 11– 15 2022.
What is it about?
During the camp, the participants will have the chance to learn about the consequences of climate change and the efforts and opportunities that we can do to mitigate them.
The camp will give them not only theoretical but also practical experience of the various ecosystem services provided by the landscape, with a special focus on medicinal plants and herbs.
During the programme, the participants will conquer the waves of the Bodrog and discover the natural treasures of the area in a rafting trip.
Apply now if you:
are between 18 and 30 years old
have at least B2 level of English,
and are interested in environmental protection.
Application deadline: 10th of June 2022 (Sunday)
For more information contact Eszter Németh on nemeth.eszter@mtvsz.hu email address.
Registration link: https://forms.gle/21rRoAupX31Y5prt8